The American pecan industry has been experiencing significant growth over the past decade. When the US Pecan Growers Council began marketing and educational activities abroad, pecans began to experience growth in the export markets.
Growth in the domestic pecan market had been stagnant for decades and growers had to find new outlets for pecans. Fast forward to current day and that investment in marketing has returned growers better prices on the farm, along with new customers and markets.
The newly developed markets in various countries have been extremely helpful with the onset of the trade war between China and the US. While China was the largest export market for American pecans until recently, the work in other markets is paying off, helping to mitigate the pain of the trade war.
While export markets continue to grow with the work of the US Pecan Growers Council, the domestic consumption in the US may be the brightest spot in the demand category. With the onset of the federal marketing order and the formation of the American Pecan Council, domestic consumption has seen an uptick.
The newly branded "American Pecans" now has a vastly larger marketing budget along with full staff and global marketing partners like Weber-Shandwick. One of the major focuses of the brand was to reposition pecans in the minds of consumers, thereby encouraging new use of pecans as snacks and everyday ingredients.
The marketing strategy has only just begun, however the demand in the domestic market has responded quite well over the past year. With data now available to monitor shipments and demand both domestically and abroad, the industry can now measure the effectiveness of their marketing.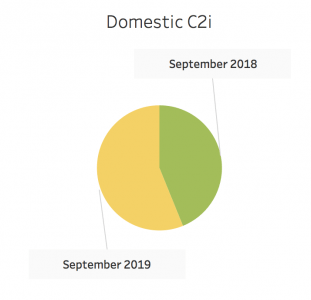 September data shows a 26% increase. The APC has now entered its second year of monthly reporting allowing for year to year comparisons. In September of 2018 the American pecan industry shipped 22,060,742* pounds of pecans, in September 2019 shipments totaled 27,873,520*.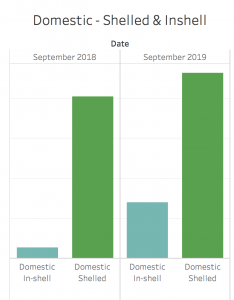 This represents a total of 26% increase in total pecan shipments when compared to the same time last year. Domestic shipments increased by 28%* while export shipments increased by 21%*.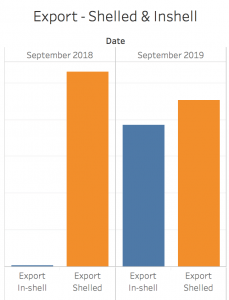 This good news comes at a time when American growers have been increasingly concerned over the trade war that has yet to be resolved, pushing into another harvest season without the industries largest export customer.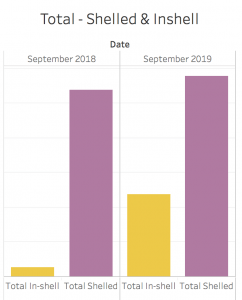 *C2i – Converted to In-shell. Converted to in-shell is done by converting shelled pecans into in-shell equivalent by using a 50% kernel conversion rate.
Example: 1 pound of shelled pecans equals 2 pounds in-shell pecans.
* Data has not been amended from original monthly reports.