The latest pecan position report shows how lower farm gate prices have buyers purchasing more and growers delivering more pecans as compared to last year by this time in the season. While the month of February was down by about 4 million pounds when compared to last February, the year to date total is up by nearly 57 million pounds for the season. 
Demand continues to push higher in the domestic market as well as the export markets. Growers are once again shipping pecans to China who has been the biggest driver behind the increase in export shipments so far this season. The middle east has also increased purchases over last year so far sitting at double last seasons shipments.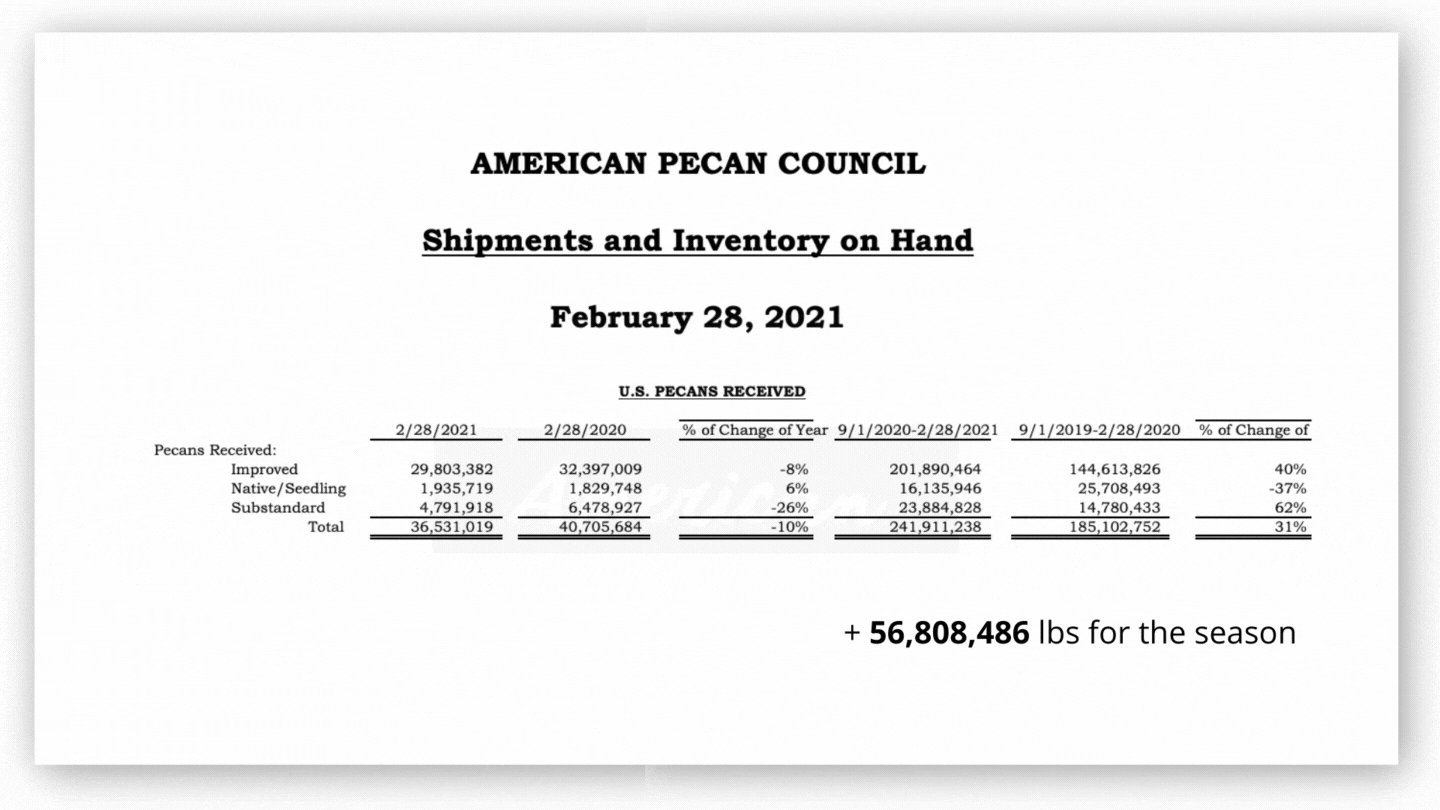 In-shell pecan shipments have nearly doubled over last season as China is slowly returning to the market. In-shell shipments from September to February of last year sat at just over 42.6 million pounds, while this season for the same time period In-shell pecan shipments are currently at 80.4 million pounds, nearly double same time last year. 
You might think this comes at the expense of shelled pecan shipments, but you would be wrong. Shelled pecan shipments have jumped 13% from 83 million pounds to 93.6 million pounds September to February. This increase in shipments bodes well for the pecan industry and shows how a little marketing can go a long way. 
Even in the face of a trade war, and rolling global economic shutdowns American Pecans have continued to increase shipments. While in-shell pecan shipments took a big hit with the China trade war. The Phase One trade deal has allowed for shipments to again flow, and recover some of the lost ground in the world's second largest economy. Shelled shipments have seen some slight ups and downs with economic as well as port shutdowns, but overall have fared well as people become more conscious of healthy eating and snacking. 
As the numbers are currently reported, the pecan industry looks to be on track for a stellar year. With the second quarter of the season now reported and 6 months left to go, pecans are making their way onto the shelves and ultimately into the homes of more people around the globe. And with a bigger marketing budget coming down the pipeline, this is only expected to continue.