Pecan exports from the US totaled 113,657,323* from September 2018 to August of 2019; both exports and domestic consumption is increasing. 

The American Pecan Council has released its first full year of monthly pecan data and the numbers show steady consumption abroad as well as in the US. The United States still remains the dominant consumer of pecans both in-shell and shelled, however with the new marketing efforts led by the American Pecan Growers could change things in the future. 

While Chinese pecan purchases have lagged behind other nuts with the onset of the trade war, the export numbers for pecans continue to grow in other countries. While Chinese buyers prefer In-shell pecans to shelled pecans; since the onset of the trade war between China and the US, shelled pecans have taken the lead for export preference. Canada was the largest export market by country with 7,690,575 of shelled pecans followed by, Germany, Netherlands, United Kingdom, and France rounding out the top 5. 

When looking at pecan exports by region Europe is the top destination followed by North America **, Asia, the Middle East and Africa. 

January was the biggest month for export shipments during the season followed by October, February and May respectively.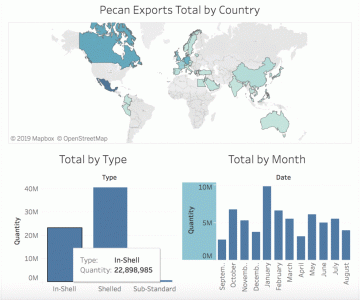 The European region being the largest export region has shown steady consumption throughout the year with January and July being the biggest import months while shipments never fell less that 1.2 million pounds per month showing a very steady export market. This is also where 4 of the top 5 pecan import countries reside as well. The European region has been a steady consumer of pecans for years and now with a more significant marketing budget American pecan growers are working to develop these and other markets. 

Note – Monthly data in the charts has not been amended and is shown as reported before amendments.

*C2i – Converted to In-shell. When converting pecans from shelled to in-shell a kernel rate of 50% is used as the industry standard.

**Shipments to the USA are considered domestic consumption and not included in the export data.