With the latest release of shipments for the month of November the pecan industry saw shipments slightly outperform last season during the same month, pushing the first quarter to a 20.4% increase over last season first quarter shipments. 
Comprising the first quarter of the season from September to November the American pecan industry shipped just under 110 million pounds during the 2019-20 harvest season which was slightly higher than the previous year. This season has proven yet angina that the marketing efforts of the American Pecan Council are beginning to generate returns for the industry.
While wholesale farm gate pecan prices are the lowest in a decade, retail is booming here in the US. While exports have slumped since the trade war and a pandemic, domestic demand has continued to show increases for more than year now. Domestic consumption has been the driver behind the increased consumption trend in pecans.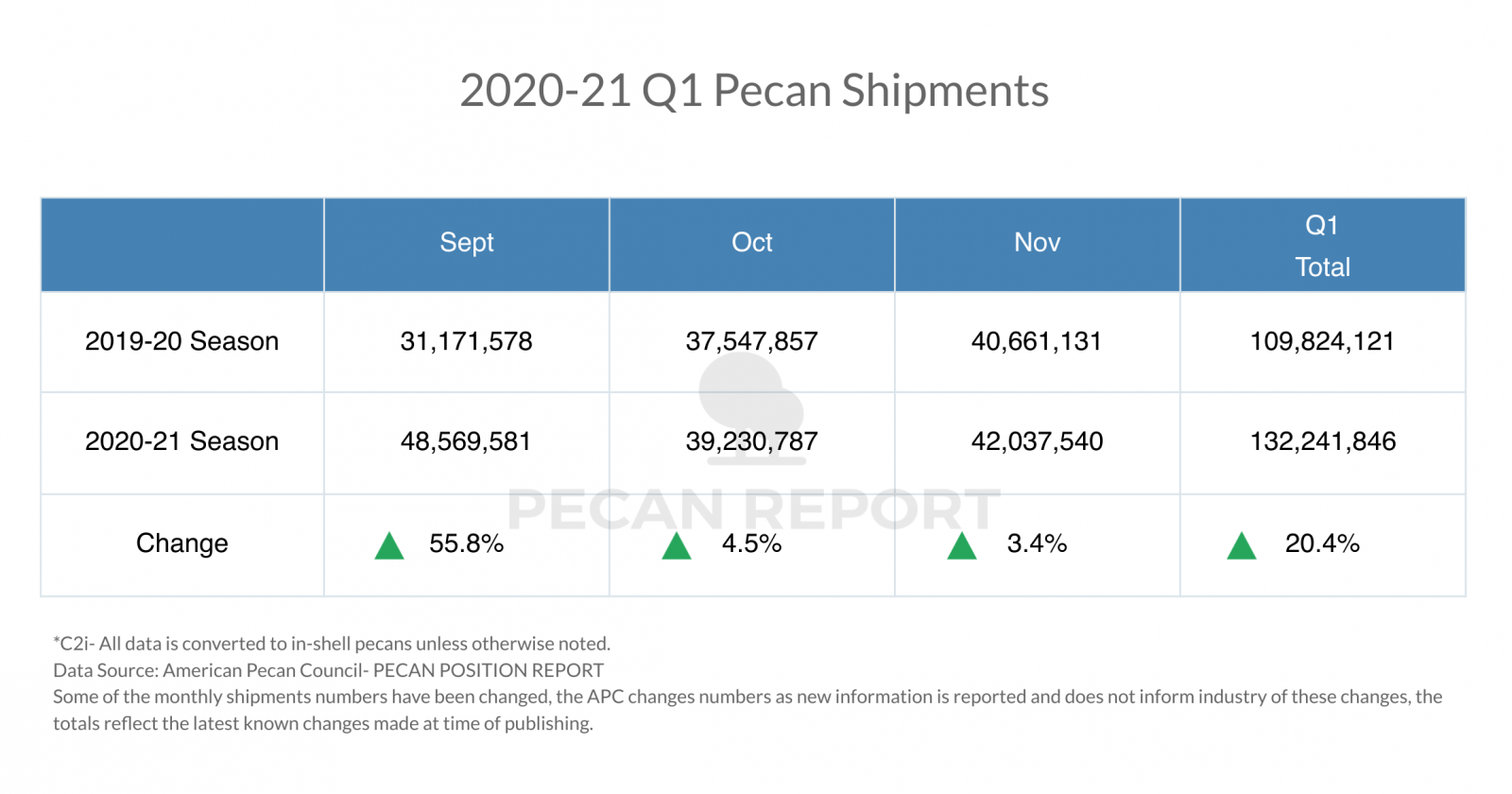 Pecan exports have been an increasingly disappointing trend, as other tree nuts such as pistachios have seen huge increases in exports, the pecan industry has seen numbers decline over the past months while pecan imports from Mexico continue to depress farm gate prices. 
The American pecan shellers continue to import Mexican pecans by the millions of pounds in order to keep on the farm prices depressed in both countries. With cheaper production cost in Mexico, American growers are finding it harder to compete. Many growers in Louisiana and parts of Oklahoma and Texas opted not to harvest their crop this year because the cost to harvest would be more than the return for selling the crop. 
As the American Pecan Council continues to push domestic demand, pecan exports need a major jolt in order to move the needle on farm gate prices. Growers selling direct to the consumer have found a significant increase in interest and purchases. With wholesale prices dropping below profitable levels, more growers are opting to sell their pecans directly to consumers.